18x18 exhibition
18x18 one year later with Rebecca
Categories
It has been one year since we had the opening of our 18x18 exhibition and we thought it was time to check-in with some of our 18x18 young women on how life is going for them now. First out is Rebecca who when we met her was a highly ambitious young entrepreneur who loved her to-do lists and had clear goals for her future. We asked her what was going on in her life now and how her life had changed the last year. 18×18 was created as an immersive photo exhibition experience, diving into the world of 18, 18-year-old women from all over Auckland. You can see all photos and read her full stories from the exhibition here. 
Tell us what has been one of the highlights from the last year…
Moving to Wellington is definitely one of my highlights from the last year. It has put me so out of my comfort zone. I've met some amazing people who will be in my life for a long time. I've moved from the halls to living in a flat with 2 of my best mates and I have made more memories than I thought possible. It is crazy how different it is to live in a building with 300 people. But the halls, first year university, and everything else Wellington has thrown at me has been so great!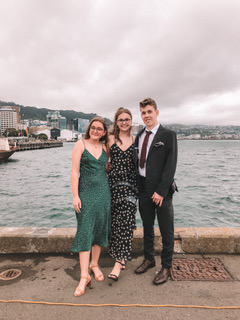 What have been some of the struggles this year…
Moving to Wellington whilst it has been amazing has also been a struggle. From missing my friends and not being able to travel home due to COVID to meeting some not so friendly people living in the halls.
But my biggest struggle this year was keeping my enthusiasm for business alive. When COVID hit it stopped my dead in my tracks with my swimwear business. I had a huge break from my business which didn't help my mental health at all and it was hard getting back into the thing that I love the most. 
How, would you say your life has changed the last year?
I've had to grow up. Moving away from home makes you so much more independent and you learn how to manage every aspect of your life. 
But I've also met so many new people and learned so much from them as well which has also really helped me to grow and seriously changed my outlook from where I was a year ago.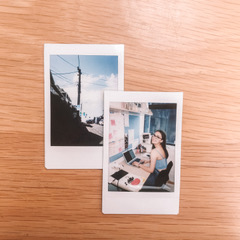 What is your biggest fear for the future at the moment?
My biggest fear for the future is that something else I haven't planned for will pop up. I got back on track after taking a huge break from business after COVID hit my swimwear launch. I think now I am worried that something else that I haven't planned into my very busy plan for 2021 will totally disrupt everything again. 
Reflecting on the 18x18 exhibition, what would you say you got out of it?
I got to share my story!! It felt really good to be able to talk about everything I was doing and talk about the times I had been shut down. A lot of people I knew read my story through the exhibition and messaged me saying they had no idea about what was going on in my life. 
It was also super interesting to be able to read the other girls stories. I feel as though I got a much wider understanding of how everyone is different from the way they are brought up to their passions and projects they are involved with now.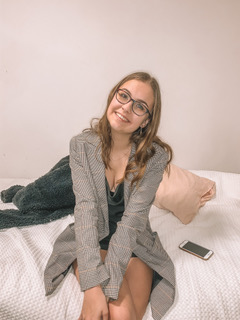 Reflecting on the 18x18 exhibition and the purpose of it, to enable young women voices, from all walks of life, what do you think everyone can do to support young women and make sure their voices are getting heard?
Actually taking the time to listen!! I feel as though everyone has a story to tell and it is just so common to not try to listen. 
From my experience, there are either adults who encourage you and know that their are voices needing to be heard. OR there are adults who just believe young women are children and not worth listening to or taking that time to hear their story. 
If we all took the time to encourage young girls to speak up and share their story and gave them a safe, supportive space to do so we would hear so much more about young inspiring women. It has to be a safe and supportive space as there is no point if a young woman shares her voice and message just to be shut down, pushed to the side or ignored.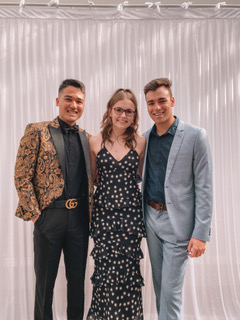 What is your plan now and for the next year?
I actually have A LOT planned!! Short term I am about to come back home to Auckland for Christmas where I will work part time and do a lot of catching up with my mates who I have not seen enough this year. I will continue to upload weekly YouTube videos and work on my second hand resell business which I run on depop @byrebeccamarie. 
And longterm, looking at next year I have so many projects planned, some of which will have to remain secret but I plan to grow my YouTube channel and depop account even further. I plan to bring back Purpose Swimwear but rebrand it and make it even bigger and better ready for summer 2021. There is so much I want to work on and I would love if you followed along and supported my through this @itsrebeccamarie on instagram. It will be a whole lot of fun, fashion and sustainable. :))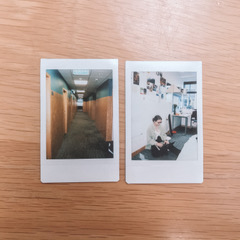 Covid happened this year, how did that affect you?
COVID really through a spanner in the works for me this year. The first of the big lockdowns all over the world hit a month before I was supposed to be launching my first drop of bikinis. I have a swimwear line made from plastic collected from the ocean, it has been a huge passion of mine and there had been so many previous complications and COVID just stopped me right in my tracks. There was a huge delay on production times, delivery and the price was increased due to new working conditions and practices needing to be put in place. I stopped all business work and just worked on my university papers and enjoying my time in the halls. This led me into a pretty sad time and I realised that having nothing to do with business or a project to work on was leading me to feeling really lost and not myself. So I started reselling clothes again, got back into my element and am now on such a huge hustle with all my projects and businesses that I am actually not going back to university next year so I can come back even better next year and have the perfect summer line for 2021.
And here are some of the questions we asked one year ago that we want to ask you again…
What was the last thing you googled?
Youtube studio. To track how my latest YouTube video was tracking. 
Hehe also my YouTube is 'Its Rebecca Marie' for all your sustainable fashion and university life needs. 
What was the last song you listened to?
These words by Natasha Bedingfield
If you got 50 dollars to spend, what would you buy?
Something for my business! At this point, I would probably put it towards a label printer.
18×18 was created as an immersive photo exhibition experience, diving into the world of 18, 18 year old girls from all over Auckland. You can see all photos and read her full stories from the exhibition here. 
How did you feel at 18?
18×18 is an immersive photo exhibition experience, share your one word of how you felt when you were 18...
Other Stories you might like