Hidden treasure at our Hostel
Standing on the shoulders of giants
Categories
During the last lockdown, Kerry and the hostel residents spent some time going through archival material accumulated over our 135 years as an organisation and hostel. We have inhabited the YWCA Hostel on Vincent Street for 20 years now, but we have have several different hostels over our long history. We had a hostel on Queen Street too and when Kerry and the residents were cleaning out the storage they found treasures that reminded us all about our history. 
"The longer I spent in the storerooms, the more inquisitive some of our residents became."
- Kerry Barnett, Hostel Manager
During lockdown, five of the residents became curious with what Kerry was doing and decided to join her in the "cleaning". They spent hours and hours uncovering records and stories of the women who were instrumental in building the Y of today. Kerry said "It was thought-provoking, powerful, at times emotional, but mostly filled us with an overwhelming sense of pride for the organisation we call "home". In a time where women were fighting for the right to be heard the YWCA offered money-saving workshops through ASB, sex education classes, self-defence classes, Māori and Pacifica engagement;  the list goes on and on and on".
We truly do stand on the shoulders of giants.
The five residents who helped Kerry wanted to acknowledge and celebrate YWCA Auckland for the hostels, for the women that had gone before us and for the women that will be our future. Kerry explained, "Uncovering and documenting the archives and pictures did more than unclutter the store rooms, it ignited a passion for all things feminism in our residents. It was an eye opening time for me bearing witness to this fierce transformation for the YWCA residents. For them it was so much more than a place to call home, it was an organisation that were years ahead in their thinking and delivery, a pragmatic, determined and liberal feminist organisation that they are proud to be a part of".
One of the most precious finds was a poem written by a 1929 YWCA hostel resident, Carolyn Allen. Our residents were blown away at how relevant the poem still is today.  As a result they decided to paint the poem on one of the walls of the hostel: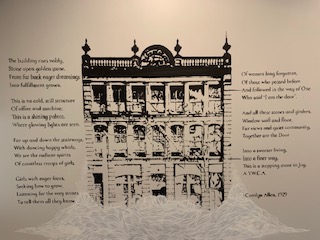 "The building rises nobly,
Stone upon golden stone.
From far back eager dreaming's
Into fulfillment grown.
There is no cold, still structure of office and machine;
This is a shining palace
Where glowing lights are seen.
For up and down the stairways,
With dancing happy whirls
We see the radiant spirits
Of countless troops of girls.
Girls with eager faces,
Seeking how to grow,
Listening for the very stones
To tell them all they know.
Of Women long forgotten,
Of those who passed before
And followed in the way of one who said
"I am the door"
And all of the stones and girders.
Window wall and floor,
Far views and quiet community,
Together they are the door
Into a sweeter living ,
Into a finer way,
This is the stepping stone to joy
A Y.W.C.A"
- Carolyn Allen 1929
The Vincent Street Hostel was officially opened by Helen Clark, Christine Fletcher, Sandra Coney and Judith Tizard on 27th May 2000.  We celebrated our 20 year anniversary in lockdown in an unprecedented global crisis with an incredible group of staff and residents.